Thank you to everyone who supported me! I am honoured to be re-elected as your MLA for Lake Laberge.
A huge thank you to all the people who volunteered their time to help out with my campaign. Any successful campaign is a team effort, and I couldn't have done it without you.
I want to especially thank those of you who helped me day after day throughout the campaign with door knocking, phone calls, and signs.
I also sincerely appreciate the donations made to my campaign by a number of people.
Congratulations to all my colleagues who were elected, and thank you to all our volunteers and supporters across the Yukon who helped us win the popular vote in this election.
Thank you!
Brad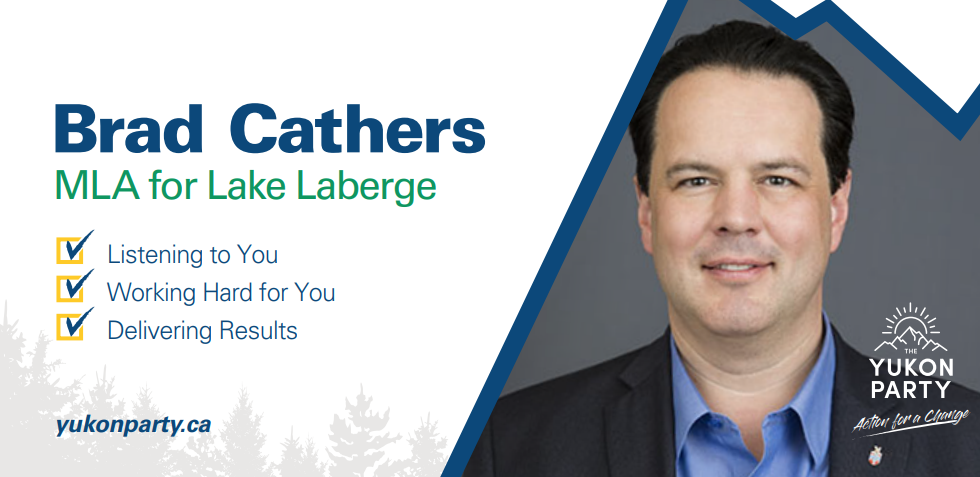 During the election campaign, I have heard a wide range of issues and priorities from my constituents.
 Information about our policies and position on a few of the issues I have heard about most often is below. 
To read the Yukon Party platform, please visit https://yukonparty.ca
Yukon Party Plan Will Support Growth of Our Agriculture Sector
Increasing support for our hospitals & our health care wait time reduction strategy
Stevens Quarry – Letter from the Leader of the Yukon Party
Brad standing in the Research Forest, overlooking the Takhini River.  The area that would be developed by the proposed Stevens Quarry (if it proceeded) is on the left side of the photo.
During his time as Minister of Energy, Mines and Resources, Brad opened the Research Forest to the public.  Today, many people enjoy its recreational trails, playground, and wilderness views.
On Friday, March 12th, the Premier called a territorial election, with Election Day on Monday, April 12th.
It's been a pleasure serving as your MLA, and I would sincerely appreciate your support in the election.
I have enjoyed having the opportunity to talk or communicate by email with many of you recently, and look forward to speaking to many more constituents before election day!
In a normal year, I'd be knocking on as many doors as possible during the election campaign, and trying to visit everyone personally. Since we're in a pandemic, I realize some of you may rather not have visitors at this time. If you'd prefer a phone call, please let me know.
Please feel free to contact me if you have any questions, or if you would like to talk to me about an issue or priority that is important to you.
If you would like to get a sign for your driveway, volunteer, or make a campaign contribution, please email me at brad@bradcathers.ca or phone 667-6312. 
If you want to support my re-election campaign, donations are very much appreciated.  Donations can be made online at yukonparty.ca/donate
And as always, please feel free to call or email if you have any questions, or if I can be of assistance to you.
Sincerely,
Brad Cathers
MLA for Lake Laberge
Yukon Party candidate – Lake Laberge
For more information about the Yukon Party, including candidates and announcements, vist www.yukonparty.ca