Brad Cathers
Yukon Party MLA for Lake Laberge
On Friday, March 12th, the Premier called a territorial election, with Election Day on Monday, April 12th.
It's been a pleasure serving as your MLA, and I would sincerely appreciate your support in the election.
I have enjoyed having the opportunity to talk or communicate by email with many of you recently, and look forward to speaking to many more constituents before election day!
In a normal year, I'd be knocking on as many doors as possible during the election campaign, and trying to visit everyone personally. Since we're in a pandemic, I realize some of you may rather not have visitors at this time. If you'd prefer a phone call, please let me know.
Please feel free to contact me if you have any questions, or if you would like to talk to me about an issue or priority that is important to you.
If you would like to get a sign for your driveway, volunteer, or make a campaign contribution, please email me at brad@bradcathers.ca or phone 667-6312.
If you want to support my re-election campaign, donations are very much appreciated.  Donations can be made online at yukonparty.ca/donate
And as always, please feel free to call or email if you have any questions, or if I can be of assistance to you.
Sincerely,
Brad Cathers
MLA for Lake Laberge
Yukon Party candidate – Lake Laberge
I am pleased to be officially nominated as the Yukon Party candidate for Lake Laberge for the upcoming 2021 Territorial Election.
After formally beginning the nomination process earlier this year, on February 8, 2021, I was confirmed as our candidate in the riding of Lake Laberge.
I look forward to seeking a renewed mandate from my constituents, and working together with my colleagues to win public confidence in the next election and form a Yukon Party majority government.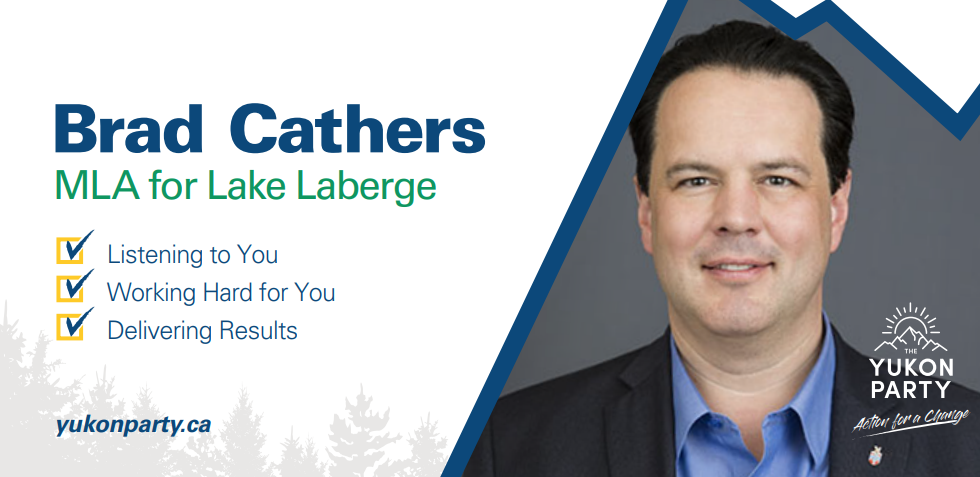 September 14, 2020
Brad Cathers Will Seek Reelection In Lake Laberge 
WHITEHORSE – Brad Cathers, Yukon Party MLA for Lake Laberge announced today that he is seeking the Yukon Party nomination as candidate for the Lake Laberge riding in the upcoming territorial election.
"My track record of success is due to listening to Yukoners, and working hard on their behalf," noted Cathers. "What I have heard is that Yukoners value a strong diversified economy, the peace and beauty of the wilderness, quality health care, a good education system, an effective social safety net, and infrastructure that meets the needs of our homes and communities – and I
share those values."
Standing beside the Yukon River